Should you find that the Community is not a great fit for you, you can cancel at any time. You will find a link to do so right inside of your member profile (in the 'Settings' tab). It's as simple as clicking 'Cancel Membership' and giving us a few bits of information.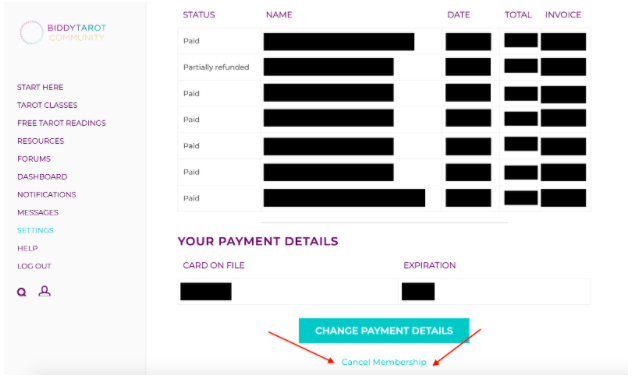 Once you fill out the cancellation form, you will retain access to the content of the Biddy Tarot Community up until the day before your next scheduled charge.
After that, your account will be fully canceled and you will no longer have access to the website and all of its juicy contents as a member. You will, however, still be able to log in and make a request for a Free Tarot Reading.
Please note, even if you may have missed your cancelation deadline by only a day or two, Biddy Tarot operates a strict no-refunds policy, and there are no refunds given for partial months/years or unused memberships (unless required by Australian Law – see our full refund policy here).